Frequently Asked Questions
We hope this FAQ page will be of help in answering your questions. Feel free to ask additional questions via email!
The suit I want is SOLD OUT - will you RESTOCK it?
All of our collections are limited-edition, and produced in one-time, small batches. While we do not generally re-stock*, some of our most-loved prints have been known to reappear in future collections with slight variations. If you simply MUST HAVE a certain suit, you can reach out to us to see if we might be able to track one down for you
*That said, since our recent Siren and Dahlia collections are so loved, we are definitely planning on restocking as soon as possible! Estimated arrival is still TBD. You can join our mailing list to get updates and details about our product drops, or reach out to us, to be put on a waiting list.
What's the difference between the two BOTTOM STYLES?
Our wetsuits come in two bottom styles:
The "BOOTY-CUT" bottom
offers extra coverage.
The "HAWAIIAN-CUT" bottom is a cheekier, bikini-style option...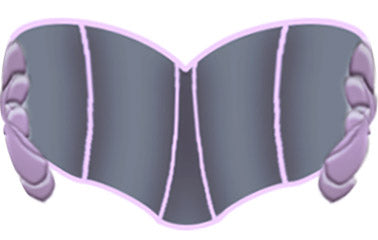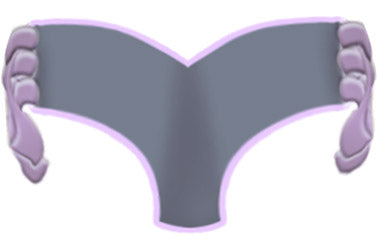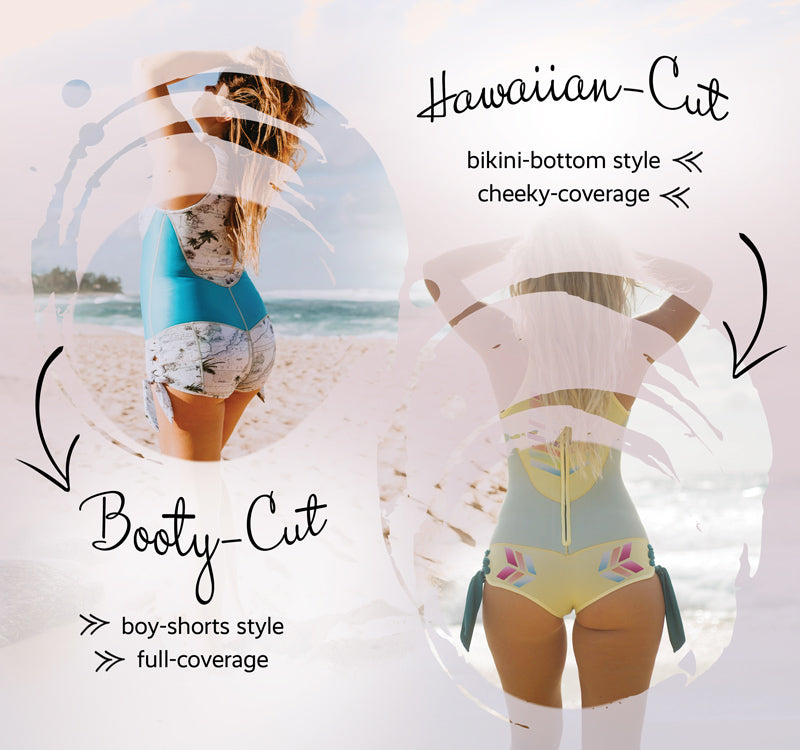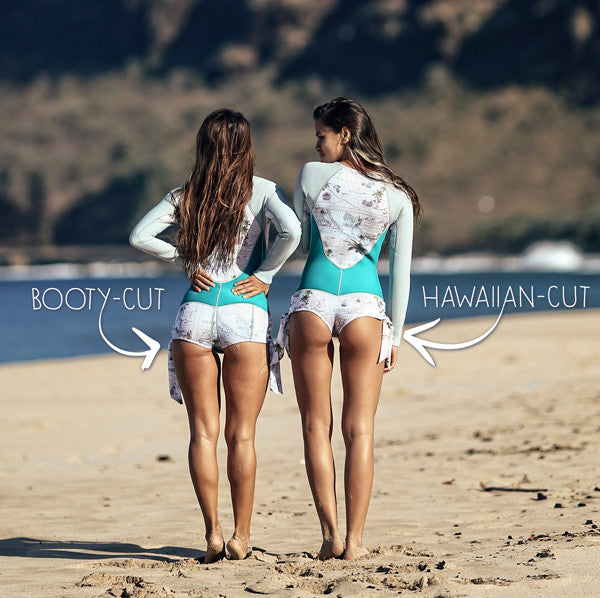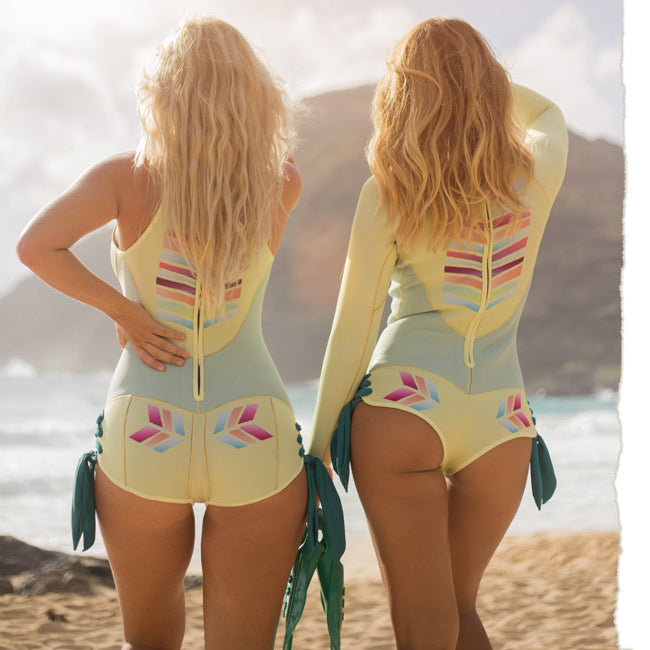 Booty-cut
Hawaiian-cut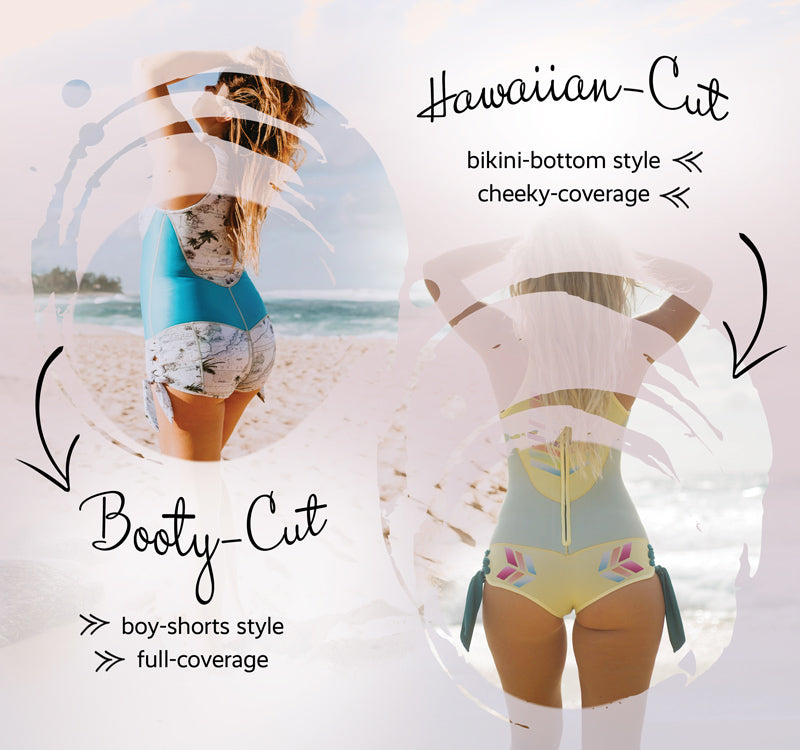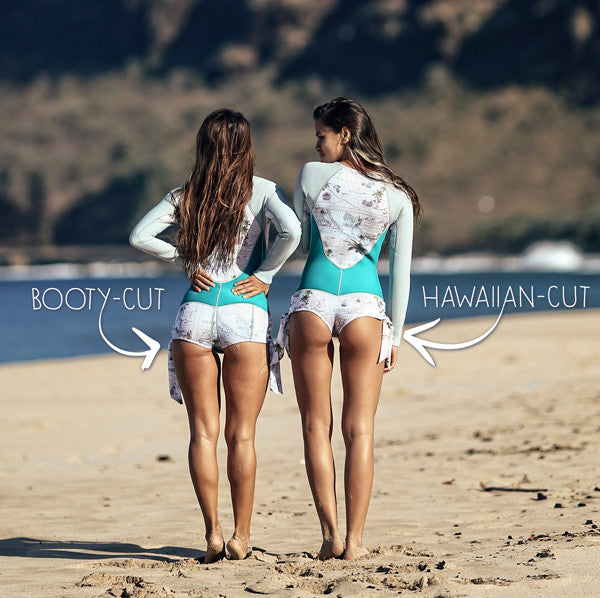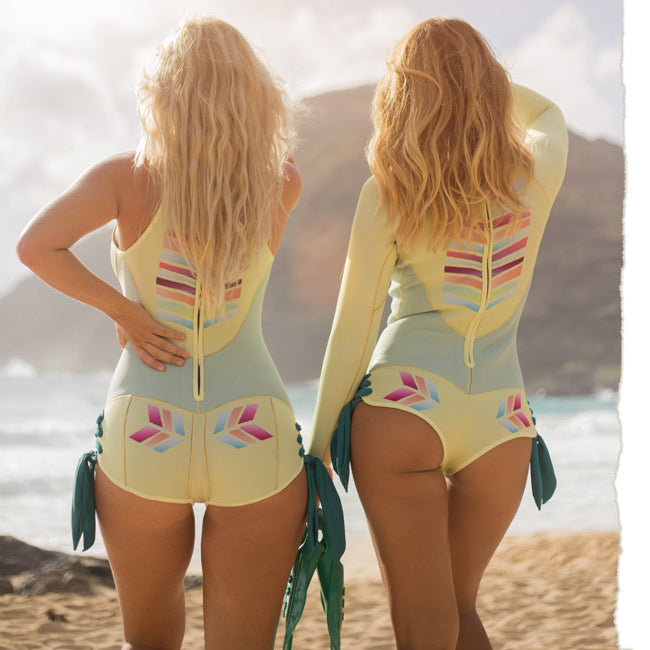 Booty-cut
Hawaiian-cut
Can I place a CUSTOM ORDER?
Short answer... sorry, not at this time ☹
Although Jamie is not taking custom orders at the moment, you can reach out to us with your proposal and we will put you on a wait-list for when she can find the time. We appreciate your understanding!
Do you offer FULL SUITS?
While our current focus is on gear for warm-water climates, yes - we are in the process of developing both leggings and a full suit. Stay tuned!
What TEMPERATURE or CONDITIONS are your wetsuits made for?
Our springsuits and wetsuit jackets provide a versatile level of warmth & comfort that's suitable year-round in the tropics and sub-tropics, and seasonally in temperate zones.
— In other words:
Our suits are geared towards warmer climates or seasons.
At 2.5mm,
our suits are THICKER, and thus WARMER than most comparable springsuits on the market.
TIPS for Staying Warm:
Some of our customers choose to layer a jacket over a sleeveless springsuit for extra warmth when they need it.
You can also remove the side ties and layer with a full suit or leggings (neither of which we currently offer – but stay tuned!)
At this time, the wetsuits we offer do not have a "turtleneck" — which means, you will likely experience some degree of water-flow through the suit.

For those of us who feel claustrophobic in a turtleneck, this is well worth it! But we do recognize that this can reduce the overall warmth found with a tighter seal – particularly if the suit is too large, allowing excessive water inside.

Remember that your suit should fit like a second skin – snug and comfortably tight. Once you get in the water, the neoprene will feel less constrictive and will hug your body like a warm embrace.
What are the GRAB BAGS all about?
Our grab-bags are a great way to get Sirensong gear at a deeply discounted price. All you have to do is pick the bundle option, your size, and the bottom style you prefer. We'll curate your bag of goodies from there - choosing the print(s) and making you a custom surf-hat.
We also offer a grab bag ADD-ON if you just want to add one 'mystery' item when making another wetsuit purchase!
We suggest letting us know in the order comment section if there is a particular color or print you want us to avoid, or ones you already own.
You can also let us know if you have a preference for a high- or low-rise hat.
While we can't guarantee you a specific pattern, but we will most certainly take your preferences into consideration!
All sales are FINAL with our Grab Bag package deals; however, we will exchange SIZE if needed.
Do you ship INTERNATIONALLY?
Absolutely! We'll be happy to ship to you wherever you live and have various shipping options available for our international customers. More info about shipping can be found here.
Please be advised that you are responsible for any import duties and tariffs (i.e., taxes/duties) levied by and payable to your home country. See the next FAQ item below.
CUSTOMS, IMPORT DUTIES & TARRIFS — Advisory for our INT'L . customers
International Customs Advisory...
International customers may be responsible for any import taxes, duties, or tariffs assessed-by

&

 payable-to your home country.
Customs processing time often adds unpredictability to the expected delivery date for international shipments.
After your package has shipped, we will upload copies of your shipping documentation to your order status page

Sign in to your account, or see your Order Confirmation Email for link

, which you can provide to Customs if they request it.
How does SIZING work?
Please see our sizing page for more info, and/or take a look at the below two FAQs...
Even though I looked at the size chart, I STILL need advice...
If you're not sure which size will work best for you, don't hesitate to ask for advice. You are welcome to purchase two suits and return the one that does not fit, but before you do so, feel free to
reach out to us
to receive personalized sizing advice. No worries if you're feeling lost or concerned about sizing, we're happy to help!
I see "Small-Tall" and "Medium-Tall", but no other TALL sizes...?
We wish we could offer more sizes, but it's tough when you're a small business. We hope to have more variants in the future, but for now, we had to settle on just the one. If you need extra length in another size, it's possible that Jamie can do some alterations for you. Feel free to
reach out
to discuss!
I'm looking for a PAYMENT (INSTALLMENTS) PLAN – do you offer one?
Yes! We now offer payment plans via Shopify's ShopPay Installments.
ShopPay offers you the option to pay in full, or to split your purchase into 4 equal, interest-free payment installments. There are no additional charges, interest rates, or late fees to worry about; nor is your credit score affected if you use ShopPay Installments.
To use ShopPay Installments:
At checkout, select ShopPay Installments
You will then be presented with one of the following options:
Make your first payment at checkout
Make your first payment 2 weeks after the purchase is made
The 3 remaining payments are automatically charged to your debit or credit card every 2 weeks thereafter, along with an email reminder before each payment is charged.
Notes: ShopPay Installments is only available for purchases over $50USD and cannot be used with Capitol One cards.
Can I come to your studio to try on the suits before purchasing?
We love meeting our customers! But we also encourage you to support our local retail partners whenever possible, so please take a look at our retail locations here.
That said, if you are on othe North Shore of Oahu and want to come by our workshop, you will need to make an appointment first, so please contact us in advance.
Do you offer free gear for promotional COLLABORATIONS?
As a small business, we are always on the lookout for like-minded women to help us grow our Tribe. Our Ambassador Program is not a one-off collab, but rather, a contract deal with clearly set expectations & benefits! If this sounds like something you connect with, we'd love to have you apply to our program by clicking
here
.